If you cant reach us because of busy phone lines, please text us at 856-315-1498 for any questions ! We will get back to you in a couple of minutes!
Pasta with ChickenAll entrees Served with Soup or Salad,
Fresh Bread & Choice of Pasta..
Penne~Linguini~Fettuccine~Angel Hair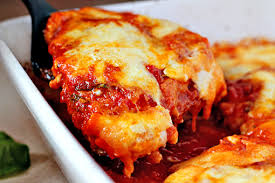 Freshly breaded chicken cutlet baked in our marinara sauce topped with mozzarella & parmigiana cheese
+ ORDER
Fresh chicken is rubbed inside out with herbs,then baked with a drizzle of lemon and olive oil.
+ ORDER
Boneless chicken breast, coated in a seasoned, creamy egg batter then lightly sauteed and topped with a light garlic sauce. Moist and flavorful! Served with soup or salad and fresh bread
+ ORDER
Our delicious take on the Italian chicken-and-pasta classic! Grilled boneless, skinless chicken breasts served with a rich Marsala wine mushroom sauce. Served with soup or salad and fresh bread
+ ORDER